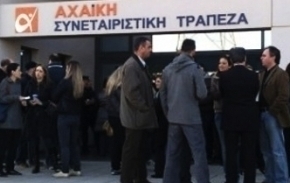 The Bank of Greece has revoked the licences of three small cooperative banks in Greece after finding dangerous deviations in their balance sheets. The central bank announced that the revoking of the licences for the operation of Achaean Cooperative Bank LLC, Cooperative Bank of Lamia LLC, Cooperative Bank of Lesvos-Lemnos LLC was inevitable, after the repeated efforts to overcome the weaknesses of these banks have failed and they have not managed to recover their sustainability.
The supervisors insist that revoking the licences of the three financial institutions will not affect depositors and they will not lose their deposits. According to disclosed data, the banks had total deposits of 300 million euro and loans of 250 million.
Local commercial banks are already interested in the portfolios of the closed institutions and, following legal proceedings, the liquidators will write off problem loans. Where possible, some of the loans can be transferred to other banks.
The cooperative banks have property within only a region and give loans only to holders of shares as they have no stakeholders. The Bank of Greece said that the collapse of cooperative banks has come as a natural consequence of the financial crisis and recessionary pressures. Many holders have sold their shares in the past two years, which has weakened the capital stock of banks.
The reasons for the collapse of the three banks include poor management, and some information suggests that there is evidence of abuse in the Achaean Cooperative Bank. The employees of the bank refused to accept the closure of their financial institution and on Tuesday, occupied the headquarters of the Achaean Cooperative Bank to prevent the liquidators from entering and beginning the closure. Its manager Evangelos Floratos denounced the decision of the Bank of Greece as illogical and hasty and requested a meeting with the head of the central bank George Provopoulos.
Revoking the licences of cooperative banks has raised concerns throughout the country, while rumours of other cooperative banks crumbling are circulating. However, representatives of the banking sector have not confirmed this information.