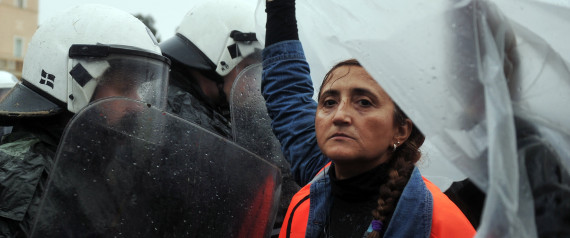 ATHENS, Greece -- ATHENS, Greece (AP) — Services across Greece shut down Wednesday as unions staged a 24-hour general strike and held peaceful demonstrations to protest further austerity cuts in the cash-strapped country.
The strike disrupted public transport, halted ferry and train services, shut down courts and state-run schools, and left state hospitals and the ambulance service functioning with emergency staff.
Dozens of flights were canceled or rescheduled as air traffic controllers walked off the job for three hours in support of the labor action.
In Athens, two separate protest marches to Parliament were poorly attended due to driving rain, with a total of 12,000 people, mostly Communist party supporters, shouting anti-austerity slogans.
Up to 10,000 protesters held two separate demonstrations in the northern city of Thessaloniki, Greece's second-largest.
Greece has been surviving on international rescue loans from the International Monetary Fund and other European countries that use the euro since 2010, after a combination of dismal financial stewardship, loss of investor confidence and the global recession brought it to the brink of bankruptcy. Successive governments have passed repeated rounds of deep spending cuts and tax hikes to secure 240 billion euros ($324 billion dollars) in bailout loans.
The strike is taking place as the government holds talks with debt inspectors from the IMF, European Central Bank and European Commission, known collectively as the troika, over what measures are needed to plug a budget gap next year.
Greece and the troika differ over the size of the gap. Athens maintains the shortfall will be around 500 million euros and can be plugged relatively easily, but Finance Minister Yannis Stournaras has conceded creditors expect the gap to be five times as big.
At stake is Greece's next bailout installment of 1 billion euros ($1.35 billion).
The country's conservative-led government insists it cannot impose more across the board cuts on a population that has already suffered an average 40 percent loss in disposable income since 2009 and seen unemployment spike to a staggering 28 percent.
Laid-off Finance Ministry cleaner Evangelia Alexaki, who lost her 500-euro a month job as part of the spending cuts, said she is now destitute.
"They throw us to the streets, just like that," she said Wednesday. "Women who are 57 and 58 years old, and (too young) to get pensions or anything else. For us, this money was little but at least we could fulfill some of the family's needs. Now they're sending us to poverty."
http://www.huffingtonpost.com/2013/11/06/greek-strike_n_4225243.html?utm_hp_ref=world