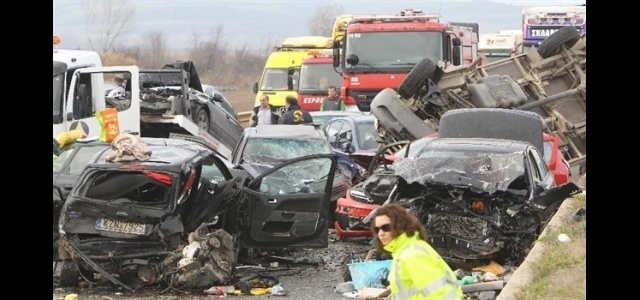 Posted by
GRReporter
Photo: tovima.gr
An elderly woman died and another twenty-three people were injured in a double pile-up on Egnatia highway this morning. Twenty-eight cars and heavy trucks, and TIRs crashed and overturned in the severe accident to the village of Klidi in the direction of Thessaloniki.
The woman died in the first crash that involved twenty cars. Two of the twenty-one injured are in serious condition and there are three children among the other people with minor injuries.
In the second accident at a distance of about half a kilometre, eight cars including an ambulance crashed. There are two injured: a pregnant woman who was in the ambulance on the way to hospital and one man.
According to initial information, the severe accident began shortly after a restaurant located on the highway. The driver of the TIR stopped suddenly and this caused the first pile-up.
The road conditions in the area are hampered by dense fog, which had contributed to the tragic incident as stated by traffic police officers.
The injured were taken to hospitals. The pregnant woman who is expected to give birth any moment and her twins are completely well.
The traffic on Egnatia highway has been restored after 2 pm.