The area of Messinia in the south-west Peloponnese has become a film set. Director Richard Linklater has preferred the regions of Pylos, Koroni and Kardamili to film the third part of the trilogy "Before Sunset", in which Ethan Hawke and Julie Delpy play the main roles.
The
actor
himself had visited Messina in early
summer
to
arrange
the
details
about filming the sequel of the romance.
In the first part entitled Before Sunrise, the young American Jesse and the French girl Celine meet in a train and spend a night together in Vienna. Nine years later, their ways meet again in the film Before Sunset, when they spend an afternoon together in Paris.
The third part, which has no title yet will be the final and will put the end of the trilogy under the Greek sun.
At the same time, the flow of Hollywood stars to Greek resorts continues. Director Steven Spielberg landed his yacht to Fiskardo in Kefalonia this summer again. There he tried his favourite meat pie in the
restaurant
of famous chef Tasia. Then, he sailed to the coast of Crete, where he spent some days.
The next stop during his Greek holiday was the island of Santorini, for which he has always said that it has a magical impact on him.
His luxury yacht "Ice angel" anchored to Armeni last week and none of the natives had understood that the world-renowned filmmaker rested so close to the coast. Neither Spielberg and his
wife
Kate, nor any of their five children had stepped out for a walk on the island. Their visit would have
remained
incognito, if a local had not boarded the boat the last day before they left, as claimed by several publications.
According to the same
sources
, Steven Spielberg spent much of his time on the deck, where he enjoyed the views of Kalderata.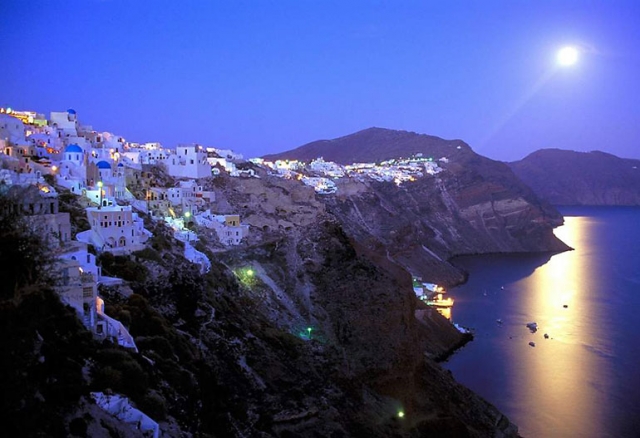 The yacht of the rich heiress of the Hilton hotel chain, Paris, arrived in the Ionian Sea too, again near Kefalonia. Sources claim the luxury boat sailed around Fiskardo and the port of Sami, but Paris Hilton was not spotted on the beach.