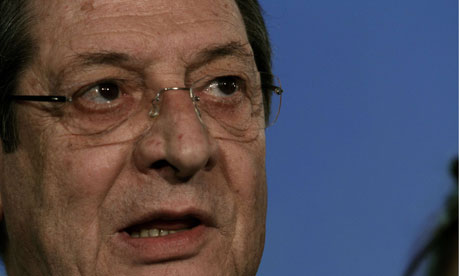 POLICE ARE investigating death threats against President Nicos Anastasiades and Central Bank of Cyprus (CBC) Governor Panicos Demetrides and their families over the raid on deposits in the island's two biggest banks.
The threats were made in a typewritten letter addressed to the two men but sent by post to local daily
Politis
in Nicosia and signed by the 'Deposit Rescue Group: To the Death'.
The paper's assistant editor Manolis Kalantzis said he received the letter on Thursday morning and immediately notified police who sent CID investigators to the paper's offices in the old town.
The letter itself was dated March 20, 2013, five days after the first Eurogroup meeting which introduced the notion of a haircut on insured and uninsured depositors in all banks in Cyprus.
If authentic, it also means the letter was written five days before the final meeting of eurozone finance ministers in Brussels on March 25, which concluded on the winding down of Laiki Bank and the restructuring of Bank of Cyprus, with uninsured depositors in both taking massive hits.
The letter, addressed to Anastasiades and Demetriades, warns that professional killers will be hired to carry out the group's wishes.
"You have destroyed us following a very well prepared plan and you continue to destroy us showing indifference to what will become of us and our children and grandchildren."
It adds: "We warn you that whatever you do to us you will get it back to a much greater degree because we have nothing to lose from this point on."
The group highlights that it will operate "from coast to coast across all Cyprus and will punish all those who brought us to this wretched state", warning those culpable for the current crisis to take their threat seriously.
"If you do not stop immediately all haircuts on people's deposits, you will pay a very high price. With us we have professionals who are paid handsomely, understand nothing and have no god other than money.
"We warn you and we're not bluffing. We will start with your grandchildren, then go to your children and leave you last so you can hurt as much as we are."
The 'Deposit Rescue Group' warns that it has "the means and strength to know each moment where every member of your families is", adding that if they are ignored, that's when the party will really start.
The author(s) of the letter called both men "sold out scumbags" and "traitors to the nation".
The letter ends with: "We belong to no party or organisation. You are fated to die."
Justice Minister Ionas Nicolaou said yesterday the matter was being investigated but that no extra measures were requested for the protection of the President and governor.
Despite the letter dated March 20, the minister said police were only informed of its existence on Thursday.
http://www.cyprus-mail.com/central-bank-governor/president-and-cbc-chief-receive-death-threats/20130406