Greek poet
Kiki Dimoula
made it to
International Herald Tribune
on the occasion of her poems' translation in English. In an article with the title "Greek poet's dark vision" Dimoula,81, speaks to IHT reporter about poetry but also about the crisis in Greece. Not only the economic crisis but also the oppression means the Greek state uses in order to
win
the war of austerity.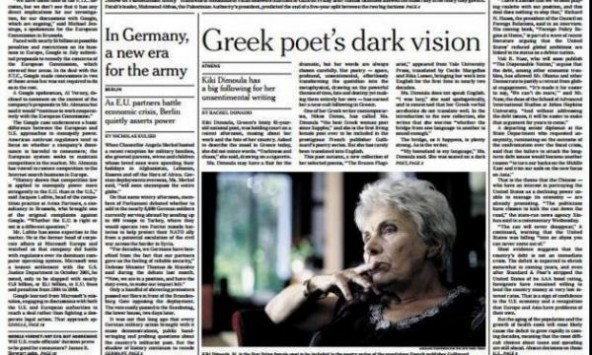 A short excerpt from the interview:
As for today? The poet believes that things will get even worse.
"I believe that things can be worse than it was during the military dictatorship. during the junta it was the leftist who were strictly monitored and persecuted. Today everyone is being persecuted."
She says that has suffered pension cuts, like all Greek pensioners. "100 people have abused the power and now we all pay," Dimoula stresses.
Dimoula adds that she carefully listens to the speeches of PASOK leader Evangelos Venizelos, which she likes as concerns the quality of the words he uses, not the credibility.
"Do you think that he is telling the truth?" asks the reporter.
Kiki Dimoula answers with single word: "No".