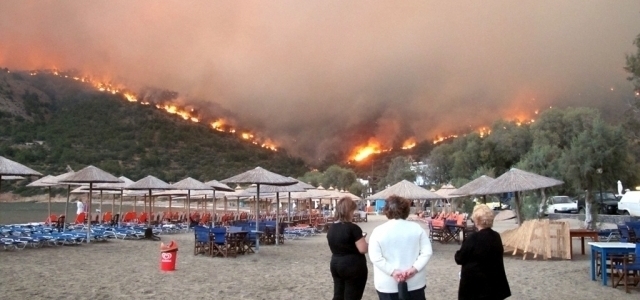 Photo: Ethnos
Victoria Mindova
A blaze has spread on the island of Chios. In the last three days, 120 fire-fighters, 50 fire engines, 110 people from the land forces, 50 volunteers and 79 military have been fighting it. Seven CL-415 aircraft, two CL-215 aircraft, two CH-47 helicopters have been put into operation as well as one C-130 to
transport
54 specially
trained
military from Athens to the island. Greek media are reporting of an environmental disaster and according to published data, more than 70,000 acres of woodland and farmland have been destroyed so far.
Currently, the most serious is the situation on the island areas of Pirgi, Olympus Panagias Sikelias. Fire-fighters, military and volunteers were fighting all night to prevent the flames from spreading to the houses in the settlements. "This is the biggest disaster for us after the massacre and the earthquake in 1881," Mayor of Chios Polydoros Labrinoudis said, quoted by Nea. The greatest difficulty in getting the fire under control is due to the strong winds that reach eight knots, change their direction constantly and prevent the fire
services
from limiting the natural blaze. The main thing now is to prevent the fire from spreading. Currently, the southern and central areas of the island are burning and fire-fighters are trying to stop the fire before reaching the northern part of Chios. According to the mayor, who spoke to Mega TV, the fight with the firestorm will be lost and the damage will be irreversible if the flames spread to the northern part of the island.
In addition to its Mediterranean
beauty
and clear waters, Chios is known as the land of the mastic tree.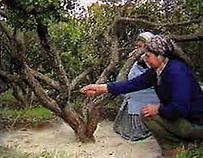 A special resin (mastic) used in confectionery and medicine is derived from it. Its
production
is a typical means of living on Chios and its production is extremely important for the local population. GRReporter contacted the president of the Union of
Manufacturers
of Mastic Evtimis Moniaros. He said the fire was catastrophic for the entire population, not just for the mastic tree. "The most important thing now is to extinguish the natural blaze. Now, the fire is raging on that side of the island where the mastic
plants
are. Chios is famous for the production of the resin, but mastic trees do not
grow
on the entire island, but only on one of its sides. Currently, fire-fighters are trying to extinguish the fire precisely in those areas." Moniaros said it was too early to make any estimates of the damages, but assessed that the fire may have affected up to 50% of the production of mastic resin compared to last year production.