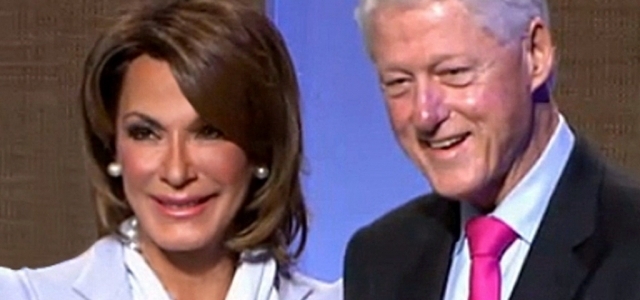 Gianna Angelopoulos with former USA president Bill Clinton; Photo: nektarini.gr
Publications in two central Greek newspapers provoked the acute response of Gianna Angelopoulos - the woman behind the organisation of the Olympic Games in Athens in 2004. According to articles in Kathimerini and Dimokratia, Gianna Angelopoulos is
connected
with the funding of an American political communication
company
that held the campaign of the radical left SYRIZA in recent elections.
The case is interesting not only in
connection
with the party whose advertisements have recently looked like posters from the Cold War period. The connection with Gianna Angelopoulos is even more flagrant. She was formerly a member of New Democracy and had even aimed at becoming the first female president of Greece. It appears that she has recently changed her colour into bright red.
In particular, the articles state that a special team of the company Teneo had arrived in Greece before the elections on 17 June and provided its
services
to "an unsystematic party that is willing to shift to the political centre, but in a way that will not frighten its clientele, " as Kathimerini wrote. Interestingly enough, the head of the company is Bud Douglas, now 40 years old, a former adviser to Bill Clinton during his stay at the White House. He has been an associate of the former president since he was 23 years old and is currently managing the Clinton Global Initiative foundation, which deals with issues of
international
politics.
According to the articles, Gianna Angelopoulos who "has brought the company to Athens" played a role here. "She does not spare any money, because she has plenty of it", reads the publication in Dimokratia newspaper, which claims that the organiser of the Olympic Games in Athens thus played the main part in "a tragedy of vengeance."
Rumours of SYRIZA's secret funding by the Angelopoulos family began before the elections, when the media found Gianna's son Panagiotis Angelopoulos at the main election speech of Alexis Tsipras in Omonia Square. He was under the podium along with three boys and a young girl. The heir of the rich family heard the entire speech and did not hide his enthusiasm when the leader of SYRIZA presented the members of
foreign
left organisations and parties and when he referred to the Occupy Wall Street movement.
As stated in the articles,
connecting
Gianna Angelopoulos' name with the funding of SYRIZA is a matter of interest, especially given the fact that she is among the people funding Bill Clinton's foundation and has close family ties with him and his
wife
Hillary.
The publication further states that according to its CEO Declan Kelly, Teneo is managed by a former CIA officer, whose name is not mentioned. The company has a network of offices in Washington, Beijing, Dubai, Zurich, Hong Kong, London, Dublin, New York and Sao Paulo.
Gianna Angelopoulos today sent her retort to the editor of Dimokratia newspaper only, because the article in Kathimerini does not state her name. "Reading your title page, the only thought that comes to me is that the reason for your incredible scenario is heat," she said.