Anastasia Balezdrova
To close the Acropolis because of the high temperature decided today the wardens of the archeological site. As early as 1.30 pm they stopped selling tickets and closed the entrance. On the side board they had stuck a note in Green and in English, to inform that the motives about the
decision
of the Greek Union of Wardens of Antique Sites aim to protect visitors and employees from the heat. The
spelling
of the note was the clearest evidence for the fact how badly affected are the wardens by the heat.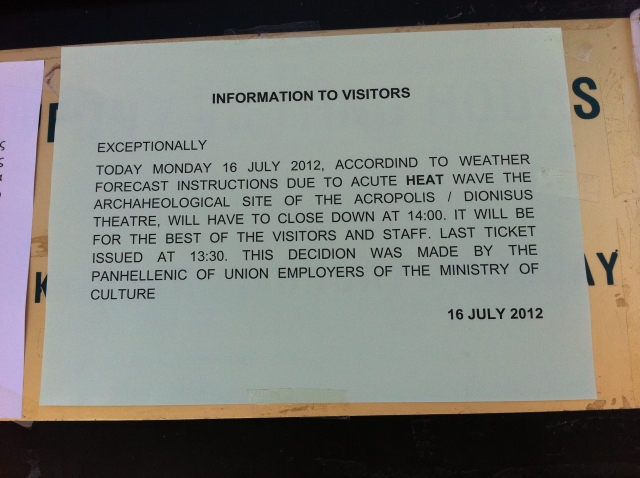 The temperatures in Greece are very high for a week now and according to meteorologists, today is the hottest day since the beginning of the
summer
. Therefore, the wardens of the Acropolis also estimated, that they can close it from 2 pm until the end of the
working
day. The interesting in the case is, that the responsible Ministry of Culture had not taken part in the enactment of this decision. Syndicalists have only informed the department's management.
"There is no problem. Just, according to the National meteorology
service
is the hottest summer day. The temperature in shade, up the hill, exceeds 45 degrees Celsius. The Union decided to close the Acropolis as a preventive measure to the good of visitors and personnel. Tomorrow the site will be open, as every other day, from 8 am to 8 pm", said for GRReporter warden Manolis Papadakis.
In the same time dozens of tourists were walking on the way to the "Holy Hill". They arrived sweated and exhausted to find out the unpleasant fact, that they won't be able to see the Acropolis today. Some of them were carrying their suitcases.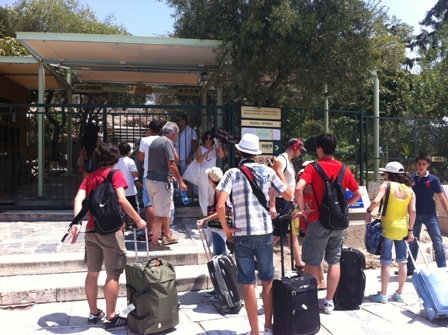 "What they are doing is not good at all. Instead to wait at the airport five
hours
till the flight to the island, where we are going to have a vacation, we decided to come and see the Acropolis. And what do we find out? The Acropolis is closed, despite the announced working hours from 8 am to 8 pm. Of course, acts like his show why the country has come to this situation. As I said to the wardens themselves, they should let us make our own
decisions
whether to climb the Acropolis, or not. I
understand
it is hot, but nevertheless, we are the ones to decide.", said Evangelya, a tourist from Australia, and a member of a big Greek Diaspore.