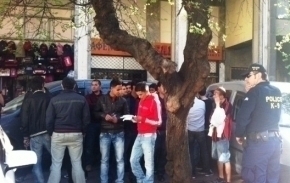 Police actions in the centre of Athens continue at a steady pace. There are police officers in all neighbourhoods where many immigrants are living and among them are Omonia Square, the area around the University of Economics on Patision Street, Kipseli neighbourhood and the Law School.
According to the Police Headquarters of Attica, on the third day of the campaign called backwardly "clean up," it involved 403 officers. The way they operate is simple: They walk and stop immigrants to check them. If they find that, they have no documents or those available are not regular, the police officers take the immigrants to the buses. Then, they are taken to different police departments.
After a short break during midday hours, the checks were resumed. One of the places that the police took was Anexartisias Square (Independence), better known as Vatis Square. The police stopped the passing foreigners and checked their documents. Other colleagues of theirs walked around the streets with specially trained dogs to find houses storing drugs. Street vendors of counterfeit copies of branded products were their "target" too. Once gathered in groups of tens, immigrants got on police buses. Many of them hid their faces from cameras and photographic lenses.
Camera: Vasilis Vafidis
Vatis Square has been one of the most marginalized areas in the centre of Athens for years. The place has always been a hangout for people prone to crime and is known as a gathering place for drug addicts in the capital. According to residents and people who work there, the situation has worsened in recent years.
Ms. Maria has been living in Vatis Square in the last 48 years. Her family is running one of the small restaurants in which she has been working for many years. "I have been robbed many times. They broke into my apartment once while I was down in the restaurant. They had taken out everything that they could. Another time I had just received my pension and they were waiting for me at the entrance. They not only took it but hit me. The entire left side of my face was bruised." The 80-year-old woman told how she had to take a taxi to go to church and that she was always looking for someone to come back together in the dark and often dangerous streets.
"Police campaigns will not solve the problems in the centre," is the firm opinion of her daughter-in-law, who opens the restaurant every morning at 05:30. "I'm afraid, but there is no other way – we make are living from this restaurant. I come by bus and I only have a bag with me to take it and avoid the risk of beating or hurt me." She said the problems have started after the Olympic Games in 2004, when the great flow of illegal immigrants to Greece began. "The truth is that we do not have any problems with the people from Bangladesh and Pakistan. Many of them have shops in the neighbourhood and we have quite normal relations with them. My experience and what I hear make me say that those who make problems are the immigrants from Algeria and Morocco as well as those from Afghanistan." People from the neighbourhood told about internal bickering among the immigrants. "Once, two Afghans literally turned upside down a man from Bangladesh to take everything he brought with himself."
"Another serious problem is prostitutes, who stay in the sidewalk right in front of the entrances of shops. We have seen many things throughout the years. Once, two men beat a woman across the road early in the morning. I wanted to scream for help but could not see who could come to help. So, I kept quiet because I was all alone." The most serious problem, according to her, however, is drug addicts, many of whom are "far from "good and victims" as some try to represent them. If they fail to take their dose, they wait for you and threaten to pick you with a used syringe to take even a euro from you. What customers should come here when while you are eating someone is coming to steal the food from your plate? Once a young boy, after watching a couple of foreigners while having lunch, left and after a few minutes flew in order to steal their camera. The man, however, was apparently alerted and had tied it to his chair thus thwarting the intentions of the thief."
Other residents of the neighbourhood were of the opinion that the police was even late to conduct such operations against illegal immigrants. "Immigrants, who have jobs, should stay. But those who do not have ones should go. If you have no means of living, you will inevitably resort to theft. I am tired of living in fear and uncertainty," said Ms. Nikoletta. She said that she has not carried any jewellery for a long time, as the thieves pull it straight from the ears and necks of their victims. "I carry my handbag in a bag in order to hide my purse." She also believes that the campaigns are held because of the elections, but there is hope that this situation may change. "In any case, it is abundantly clear that the Minister's actions are caused by the unpopular economic measures and especially by the rise in the percentage of approval of Golden Dawn in the centre of Athens."
"I tried to go and live in other neighbourhoods three times, but I could not. I want to live here. I agree with the campaign and I do not really understand the reactions of people in other parts of the country, who respond against the establishment of centres for immigrants there. What is so annoying when they will be strictly guarded? They should understand that it is not possible to continue this way," was the opinion of their neighbour.
Interesting was the opinion of a young man - an immigrant from Albania, who has also expressed his support of the measures against illegal immigrants. "I work and pay taxes in this country. Those who work and have documents should stay. But the others must go back to their countries," he said emphatically.
It is worth noting that none of the interlocutors wished to talk to the camera or be shot. People said they were afraid, because "we live here and we do not know what can happen tomorrow if we speak in public."
According to official figures, 1656 people were checked today, 1297 of them are foreigners and 359 - Greeks. 781 foreigners and 30 Greeks were taken to police departments for checking their personal data. 20 people were arrested, including 11 for drug possession, two because of court judgments issued against them, one for possession of weapons and four for violations of the law on foreigners. Six women were detained for prostitution. Police authorities seized 1.8 grams of heroin, 160 narcotic pills and 4,685 counterfeit copies of branded products and 208 of the vendors - immigrants were detained for verification of documents.
Despite the efforts made by the police to show results in the fight of illegal immigration, the majority of the immigrants caught will be released after a few days because neither the arrests are sufficient nor the centres are ready. At the same time, the legal framework does not allow their detention for a longer period of time. According to sources, the majority of them will just get a document stating that they are obliged to leave the country within a month. And none of the Athenians thinks it will happen.